While some people spend hundreds of thousands of dollars on kitchen renovations, many choose to make smaller, cheaper changes. While this can be a good way to get a brand new look, major changes may better suit a budget-conscious homeowner. For instance, installing new energy-efficient appliances is a great way to save money while giving your kitchen a unique look. Custom cabinets can also add storage space and increase the value of your property.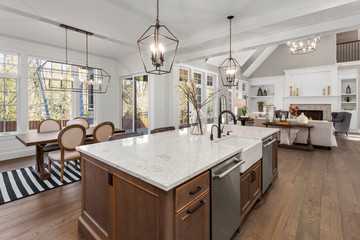 If possible, decide early on whether you want to work with a general contractor or a designer (or both). They can help you get better deals on materials and other purchases throughout the remodeling process. If they are involved from the start, they can help you decide which ideas are feasible and which are not.
Before starting your kitchen remodeling project, you'll need to know the first steps. The first step is to tear out the old materials and eliminate any hidden pipes. This step is a major undertaking for most homeowners, but hiring a licensed contractor can help ensure that the process goes smoothly. You can then plan your activities and budget around your new kitchen. The kitchen is the heart of the home, so don't skimp on this part of the project.
When you have decided what kind of kitchen remodeling you want, the next step is to select a professional. While hiring a professional can save you money, the process can take months to complete. It would be best to consider how much money you're willing to spend and whether the results will be worth the cost. Consider the layout of your current kitchen before you choose a remodeling company. If you're remodeling your entire kitchen, you might as well get an expert's opinion, and the project will turn out as you hoped it would.
Before hiring a contractor, you should draw up a contract. The contract should outline the project's scope, set a payment schedule, and establish any special requirements you might have. Typical payment plans are:
10 percent upfront.
Twenty-five percent during the three stages of the project.
The remaining 15 percent at the end.
If you're unsure of the details of the contract, you can ask your prospective contractor any questions you have. When you're ready for demo day, ensure you've brought along the necessary kitchen appliances and essential items for a temporary kitchen.
The key to successful kitchen remodels is to set a budget and stick to it. Custom cabinets, quartz counters, spacious islands, and other upgrades quickly add up. While hiring a contractor for a kitchen remodeling project is a great idea, setting a budget before you begin the project is essential. Keeping a tight budget will make the process more accessible, cheaper, and stress-free.
Regarding costs, keep in mind that kitchen remodeling costs vary widely by region. For example, in the south, a significant kitchen renovation with midrange materials and labor could cost as little as $56,673 compared to $77,460. This is due to cheaper labor costs and average income levels being lower. Before hiring a contractor, make sure you have a precise plan drawing. Then, compare the prices at store to find the best deal on the items you need.
Ultimately, a kitchen remodel can increase the value of your home. High-end finishes like marble countertops and stainless steel appliances are trendy and can increase your home's value. Adding a kitchen to your home can make it stand out in a crowd and sell for more money. However, a higher home value doesn't mean you'll recoup all of your investment. If you're planning to sell your house, keep these steps in mind.
When it comes to kitchen remodeling, final touches are critical. They are crucial and can help you avoid common mistakes. If you're working with a GC, you'll need to take measurements. Let them know if there's anything you're not happy with. Various official inspectors will review the completed kitchen and stamp the permit application as complete. They will arrange for all the inspectors, while a DIYer will have to get them independently.
Painting or refinishing cabinets will give your kitchen a fresh new look. Refinishing or painting cabinets will save you money compared to replacing them. You can also install a backsplash to tie together the colors of the kitchen. This flooring can quickly be done yourself for a few hundred dollars and won't break the bank. Another cheaper option is upgrading your hardware. This will give your kitchen an airy look. In the end, a kitchen can increase the value of your home.