When hiring a remodeling contractor, you should choose someone reputable. Look for references, review sites, and testimonials to find the best company for the job. It is also essential to check the license status of each contractor. Lastly, do not hesitate to interview them to learn more about their experience and qualifications.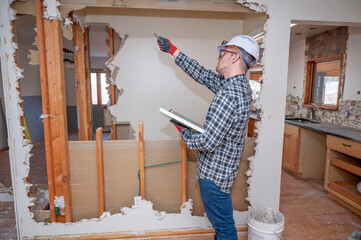 As a remodeling contractor, you will be responsible for transforming a client's vision into a reality. You will work with clients throughout the remodeling process to create realistic expectations and meet budget requirements. You will also be responsible for coordinating subcontractors and purchasing materials for the project. Remodeling is a complex job that requires a wide range of skills. Remodeling Contractors is a good multi-tasker and can work with several clients simultaneously.
The construction industry is growing in popularity, and the demand for remodeling contractors is also expected to increase. Older homes are being renovated to appeal to more affluent buyers. Since remodeling takes more work than new construction, more contractors will be needed. Additionally, as the construction industry expands, more people will be hired to work in specialty trades.
According to the BLS, the number of construction jobs will increase by 5% by 2022. This growth rate is higher than the national average. Regardless of the exact numbers, the remodeling industry will continue to grow for years. During that time, investments in remodeling will reach $400 billion. However, there are a few key factors that you should know before looking for a remodeling contractor job.
Compared to other occupations, remodeling contractors have excellent job outlooks. The industry is growing and expected to remain solid through 2021. As a result, skilled labor is in high demand, and wages are rising. Hourly construction wages are 10.1% higher than those in other private sectors. In addition, higher-level designers can earn up to $65K per year.
Hiring a remodeling contractor can be expensive. The costs involved will depend on the type of job you need to be done and the location of your project. A general contractor will charge between $30 and $85 per hour. You'll also need to consider the overhead cost, including office expenses, training, legal fees, insurance, and other expenses.
Another reason why hiring a remodeling contractor is costly is that it is not always possible to estimate these costs. One such area is labor, which varies greatly in cost and value. Some forms of labor are more expensive than others, such as wiring and plumbing. The Department of Buildings has imposed new safety regulations on these trades, which have resulted in increased costs.
Most contractors will require you to pay them for the materials they need to complete your project. You will have to pay them nothing until the work is complete, but a good contractor will charge you for the actual work they perform. In addition, you should be aware of the payment schedule for your project. Make sure to pay attention to details like payment schedules and materials specifications. Also, it's a good idea to ask for a contract in writing before hiring a contractor.
Another factor in general contractor costs is the markup. Some general contractors charge a markup that covers their overhead and salaries. These markups vary depending on the project's scope, location, and cost of materials.
Before hiring a remodeling contractor, have a rough idea of the work you want to be done. Consider trade-offs and space limitations. For instance, if you want to add a room, you will have to reduce space elsewhere. It is also important to consider the experience and reputation of a remodeling contractor. You can get references by asking friends and neighbors or by checking reputable websites.
Another way to find a contractor is by reading online reviews. Real estate websites are great places to find reviews about contractors. These reviews will give you a general idea of how past customers felt about their experience with a particular contractor. But keep in mind that reviews do not guarantee quality work or that the contractor is legitimate.
It is important to get several quotes from different contractors. Make sure the quotes include materials and estimated labor hours. While the lowest bidder may seem attractive, he may not be the best choice. Research average remodeling costs and check out work samples. Remember that a higher upfront cost may be worth it in the long run to avoid future hassles.
When interviewing a remodeling contractor, you should look at their portfolios. A contractor's portfolio should contain their best work. Always ask to see some of their completed projects and look for photos of the projects before and after the work. Moreover, check out their licenses and optional certifications. It is also helpful to see if they have a website.
You can also visit our other websites and post your article.
Conduit Hardware,78 Britnell CRT, Aqua Tremblant, Win Cheap Guest House, Quick Response Plumbing, Tighgeal, Kyles Peace, Sylars, Beans Ferry Pottery, Central Counselling, Project Homesc, Tree Aurora,Kitchens Bathrooms Floors, New Horizons Tree Service, Howell Shandyman Remodeling, Blue Star Remodeling Il, 48 hour Camaro, Colorado Health Insurance, Yes To Save Homes, Boise Chiropractor, Paperless Office Solution, United 4 Safety, Ab Sessions Plumbing Building Services, COCSBDC 2, Loving Care At Home, Team You, Business Savvy, Iric Insulation, Nexusea, Housing Counseling Association, Auto Front Office, Becker Village Mall, SR Internet LLC, Susan Sell Severett , SEO Columbus Ohio, Lake Of The Ozarks Propane Home, Indy Folkfest, The Green Wood Kitchen, Akbar Concrete Works, Naperville Inspector.