If you are in the process of renovating your home and you are looking for a flooring contractor, you are probably wondering how to go about the flooring installation process. There are some essential tips and tricks that you can follow to ensure your flooring installation goes as smoothly as possible. Listed below are some tips to help you make the best decision when choosing a flooring installation company. By following these tips, you can ensure that you'll end up with a floor as beautiful as the one you envisioned.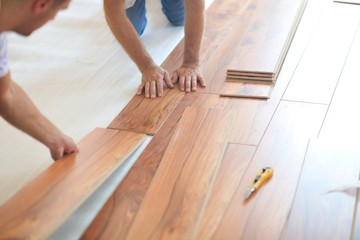 Hardwood floor refinishing can help you save money and ensure your flooring installation project goes smoothly. If you're unsure which company to choose, you can consult your local big box store. Many stores have installation professionals, so it's worth asking questions before selecting a company. Ask to meet with previous customers and see what kind of flooring they installed. Make sure to ask for references and check the reviews of each company before making a decision.
Before choosing a flooring company, ensure you know how much you want to spend. The average cost of flooring installation depends on two factors: labor and material. While some small businesses charge extra for materials, contractors can shave off hundreds of dollars by working with smaller firms. Larger chains often aim for a higher profit margin and charge more per square foot. You should also check the company's reputation. Be careful when comparing quotes because not all companies offer the same quality flooring.
Before installing flooring, you should remove the old floor covering. Some flooring products are designed to be installed directly over the existing floor. Before installing a new foundation:
Check the manufacturer's guidelines for installation methods and ensure that you follow the instructions carefully.
Have cleaned and leveled the floor surface.
Make sure that it is within the manufacturer's moisture tolerance.
And if it's the first time you're installing a new floor, don't skip the surface preparation. Ensure the floor surface is clean, flat, and free of existing adhesives.
You need to use a floating method when installing laminate, hardwood, or vinyl flooring. This method uses tongues and grooves to secure flooring without using screws, adhesives, or nails. This method can provide a seamless and streamlined look while requiring minimal tools. The materials used are among the cheapest. When choosing a flooring installation method, you should check the manufacturer's guidelines first and select the best method that suits your needs.
Once you've decided on the type of flooring, it's time to pick a color and finish. The choice of color is important, as well as performance characteristics. Keep in mind the room type and how much traffic it will get. Then, think about what kind of furniture and decor you'll put in the room. Then, choose the flooring that complements them. If your flooring is expensive or has high-traffic areas, consider hiring a professional to help you decide.
Before hiring a flooring installation company, it's essential to consider your budget. Vinyl and linoleum flooring typically cost $3-$10 per square foot. You can even install luxury vinyl products in a room for around $10 per square foot. But keep in mind that the materials' price is higher than their alternatives. If you choose to go with hardwood flooring, be prepared to pay more money for the installation. For 330 square feet of floor space, vinyl and linoleum flooring can be installed for about $2,000.
There are pros and cons to DIY flooring installation. Depending on your budget and the materials that you have available, you may end up spending more time than you anticipated. A professional installer will have a long history of installing different types of flooring, so they should have plenty of experience to give you the peace of mind you need. Hiring a professional is best if you aren't confident about your abilities, but be prepared to make mistakes.
Lay the first row of flooring against the longest wall in the room. Make sure the tongue side of the planks faces the wall and space the full-size planks about 1/4 to 3/8 inch apart from the wall. If you have a wide space, you may consider using a baseboard to cover the first and last rows of flooring. Once you've laid down the baseboard, you can move on to the next step.