Bathroom renovation is a home improvement project that involves significant changes to a bathroom's layout and appearance. These modifications include fixture replacement, rewiring, and plumbing.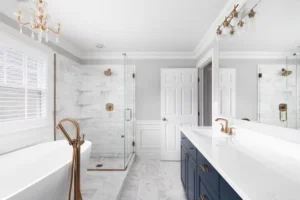 However, these changes can be significant and expensive. That's why some homeowners wonder if they should remodel at all.
Whether you're planning to remodel your bathroom or simply update its look, it is important to choose fixtures that are functional and stylish. The right fixtures can transform a bathroom into a luxurious space while also increasing the home's value.
Modern bathrooms have a wide range of fixture options, from glass sinks to porcelain toilets. Some of the most popular choices include brushed nickel, bronze, and brass finishes.
These finishes are often a good choice for contemporary or industrial bathrooms and can help define the room's overall style. However, be sure to choose a finish that is durable and easy to maintain.
There are also several new fixture innovations that can save energy and money, such as tankless water heaters, LED lighting, and low-flow faucets and showerheads. These products are a great way to make your bathroom more environmentally friendly while still maintaining the functionality and quality you want.
Before selecting your bathroom fixtures, consider the room's layout, natural light source, and priorities. These factors can influence what type of fixtures are best suited for your bathroom and how much they should cost.
Once you have a list of the fixtures that are required, take measurements and create a budget that includes materials and labor. Then, visit a showroom and talk to the design team about your needs.
Another great resource for finding the perfect fixtures is a home improvement magazine. Many magazines have pictures of bathroom fixtures that are both stylish and functional, so you can get a feel for the options available.
Then, keep the images in a file to use when you go shopping for fixtures. This will allow you to remember the images when you're in the store and make well-rounded decisions.
The bathroom is a room that requires frequent attention to detail and cleaning, so choosing fixtures that are easy to clean and maintain can be especially important. The right fixtures will last for years to come and keep your bathroom looking its best.
Whether you're remodelling your current bathroom or starting from scratch, the layout of your new space can have an impact on how your bath looks and feels. Getting the right arrangement for your needs can be a challenge, but with some clever bathroom layout ideas, you can maximize your space and create a beautiful bathroom that suits your lifestyle.
One of the most important decisions in your bathroom remodel will be where to put your sink, toilet, and tub/shower. The placement of these key elements will help your space feel organized and livable.
For a more compact layout, consider placing the sink and toilet in the same room but with a door that leads to another room. This approach is great for people who want a bathroom that can accommodate more than one person at a time and can handle a guest shower when needed.
If you have a small space, consider using wall-hung units and fittings to free up floor space for other elements. These space-saving options can make your bathroom look more open and airy, particularly if you choose units with sleek or narrow legs.
Another smart layout option is to add a separate space for seating in the bathroom, particularly if you're looking for master bathroom ideas or want to create an oasis in your space. This can be a great solution if you need an extra place to sit while you're getting ready in the morning or after a long day at work.
It's also a good idea to build a closet or linen storage area during the planning stages of your project. These spaces can be used to store towels, shampoo, conditioner, and other essentials.
When you're designing your bathroom, don't forget to think about how the layout of your fixtures will affect lighting. Having proper lighting will not only enhance the functionality of your space but also make it more appealing to potential buyers.
Once you've determined the best location for your bathroom fixtures, the next step is to decide on a design. Having a clear idea of what you're looking for will make the design process much easier. It'll also allow you to set a budget and hire contractors.