When you're moving into a new home, it's important to figure out what trash pickup services are available in your area. Trash pickup can be a hassle, especially if you're not sure how to set it up correctly.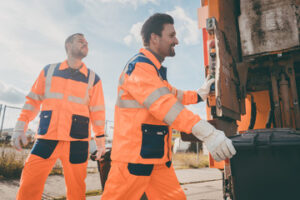 Trash Pickup services are a great way to keep your home clean and tidy. Moreover, they facilitate recycling. However, not all trash removal companies provide the same services. You'll need to do a little research before hiring a company.
For example, you might want to find out if your city offers different types of trash and recycling pickups. This will help you narrow down your options and make a more informed decision about which provider to hire.
The best way to find out is to ask around and do a bit of research online. You can also try asking for recommendations from friends or family who have already enlisted the help of a waste management company.
Another good option is to contact your local government office and ask for more information on garbage collection. They will usually provide a list of available companies and contact details.
You might also wish to call your HOA to find out if they are responsible for the cost of waste collection service. In some localities, this will be included in the monthly fees you pay to your HOA.
If you live in a larger building or complex, you may also want to consider getting an on-site valet service. This is the best way to ensure that your garbage gets collected on time and efficiently.
The most important thing to remember is that the most efficient waste removal service will vary depending on your location and the type of rubbish you generate. A small home that only produces a modest amount of waste might only require one weekly service, while a large commercial building will probably need multiple pickups per week to accommodate all the refuse it produces.
Commercial customers need to dispose of trash on a regular basis, and having an efficient plan can help them manage their garbage more efficiently. The right waste management company will offer a variety of services to meet their needs, including scheduled curbside pickups and commercial dumpster rentals.
Construction companies, retail businesses, and restaurants all need to store and haul away large amounts of garbage and debris on a regular basis, and dumpster rentals provide the perfect solution. They can help businesses efficiently manage their trash and keep projects on track.
Restaurants, in particular, must adhere to industry standards that require them to be sanitary and clean, so having a waste compactor rental is essential for keeping their establishments that way. This will allow them to efficiently manage dry, wet, and bulk waste on-site until they can schedule a pickup with their trash service provider.
Trash compactors also make it easier for sanitary workers to perform their job, saving them time and making them more productive. They can even be used to dispose of hazardous waste that must be disposed of properly.
Aside from removing garbage, commercial trash removal services can also help businesses recycle. This can save the business money and help the environment.
In the city, they offer trash and recycling services for residential and commercial customers, offering dependable pickups at competitive, stable rates. They also provide green and bulky item pickups, as well as dumpster rentals for large jobs.
In addition to providing trash pickup services for residents and businesses, the city provides a Utility User's Tax Exemption that allows low-income single-family residential customers to receive a $5 per month discount on their trash and recycling services. To apply for this service, residents should contact the City's Customer Service Center and fill out an application.
Aside from helping businesses manage their trash more efficiently, utilizing Trash Pickup services can also help them comply with a new City Council rule that requires commercial buildings and facilities to set out garbage containers. This will help reduce the number of rats and other rodents that live in these areas, as well as improve the safety of employees and visitors.