Interior Designers plan, design, and decorate the interiors of homes, commercial buildings, and other structures. They work with architects and engineers to create spaces that are attractive, functional, and safe.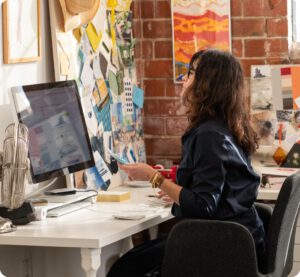 They help their clients select colors and furnishings that reflect their personal tastes and preferences. They also coordinate the installation of these elements.
Interior designers are creative people who come up with original ideas for the design of spaces. They are also able to make spaces more attractive and appealing to their clients.
The world of interior design is constantly evolving and changing. As technology advances, it helps designers be more efficient and save time on their projects. Computer-aided design (CAD) programs allow designers to showcase designs to their clients using digital models of spaces.
Designers are often tasked with creating new designs for a specific space or for an entire building. They may be commissioned to redesign the layout of a hotel, hospital, or even a residential home.
Innovation is important in any field of business, but it is especially so within the field of interior design. In order to be successful, designers must be able to come up with ideas and concepts that will appeal to their clients and help them sell their products or services.
Another way that interior designers are creative is through their imagination. This is why it is so important for them to be able to think outside the box and come up with new ideas.
Many designers are inspired by nature and the natural environment around them. In fact, it is often the first place that designers start their design process.
When it comes to interior design, being organized can make or break a project. Designers must keep track of countless materials and samples, so it's crucial to have everything in one place.
To be efficient, you should also label your materials to help you find what you need quickly. Using quality label makers is an inexpensive and effective way to organize your materials in a way that works best for you.
Organizing your fabrics, paints, wallpapers, and more is an important part of any design project. Whether you use a centralized bin or several binders for different materials, it's important to have them easily accessible when needed.
You can organize your material library by color, vendor, or performance level. This helps you find the right colors or styles to match your design projects and client tastes more efficiently.
In addition, you can organize your materials by product type, such as wallpaper and paint sample books. This will ensure you always have a good selection to choose from when you're in the market for new products or services for your interior design business.
Organization is also essential when it comes to working with clients. Being able to find files, fabric samples, or inspiration photos is essential when you're trying to meet tight deadlines or deal with budget restrictions.
Finally, it's crucial to set a clear schedule for your day and work within that schedule. This will help you keep track of your goals, make sure you don't forget any critical meetings or appointments, and prevent any distractions that can throw off your focus. Having a schedule is the best way to stay on track with your design projects and keep your business running smoothly.
Interior designers have a deep understanding of how to plan, design, and construct interior spaces. They are also aware of building codes and inspection regulations to ensure that their clients' needs for safe, attractive, and functional spaces are met.
Interior designs are often a combination of space planning, architectural style, and color schemes to create aesthetically pleasing spaces. Designers have a broad knowledge of interior construction materials and finishes, casework, furniture, fixtures and equipment, lighting, wayfinding, ergonomics, and anthropometrics.
The most common way to become an interior designer is through a four-year bachelor's degree program in a specific design field. Alternatively, an associate's degree in a related field is sufficient to get you started in this field.
In addition to the education needed to become an interior designer, there are also certification and registration requirements that you need to meet in your area. These can vary by state, so it is important to check with your local licensing board to find out the details of the required qualifications.