A professional heating maintenance service can save money by ensuring your heater operates safely and efficiently. Regular preventive maintenance is a must-do for your heater and is the best way to ensure it stays in good condition for many years. During an annual maintenance service, the technician will check your system for any problems and repair them before they become major issues. This can cut your repair costs by more than 50% and save you thousands of dollars over the life of your system.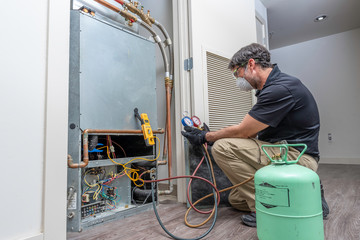 Regular heating maintenance service will ensure your furnace operates at peak efficiency. This will prevent the possibility of hot spots and increase the comfort of your home. HVAC will ensure your furnace runs at peak efficiency to keep you comfortable throughout the coldest months. This means you can enjoy the cold months and get more out of winter. With honest service, you can rest assured that your heating system will be in good shape for many years.
As part of regular maintenance, you should change your HVAC system's air filters regularly. Clogged filters can reduce airflow, which can lead to a host of problems. As a general rule, change your air filters every one to three months. Also, make sure the filter is clean and dry. Any debris or lint that gets into the air filters can affect the performance of your heating system, so it's important to change them regularly.
Performing regular heating maintenance can provide many benefits, including peace of mind and a guarantee that your heater will last through winter. As a result, it's best to start this task early in the fall so your home is ready for cold fronts. You can also ask your heating maintenance professional to perform preventive maintenance on your heating system if necessary. It's best to consult a professional if you're unsure what needs to be done.
Maintaining your heating system regularly is a smart move for years of trouble-free service. Not only will regular maintenance keep your heater running efficiently, but it will also improve your heating bill. Heating systems lose their efficiency each year, but annual maintenance can help restore the efficiency of your system. You'll save money on energy bills and maintain consistent comfort by keeping your heating system running well. It's worth it! If you have any questions, contact your local heating maintenance service.
Changing the furnace's filter is important to keep it running efficiently. A $1 fiberglass filter can help protect the blower motor and the burner. Be careful when choosing high-efficiency filters because they restrict airflow and make your furnace less efficient. For cleaner air, consider installing a separate air-cleaning system. Another simple way to keep your furnace running safely is to blow the dust off the pilot. Dust on the pilot may lead to a false flame sensor, which may be dangerous.
Performing a combustion test is another important task for a professional HVAC technician. You'll need a manometer and combustion analyzer to run the test. You'll also need a flathead screwdriver and an Allen wrench. Some professionals publish HVAC resources through the Air Conditioning Contractors. These resources are free for members, but you may need to use their subscription portal to access them.
Proper heating maintenance also extends the life of your furnace and air conditioner. By paying attention to routine maintenance, you'll extend the lifespan of your furnace and prevent a 15% annual reduction in efficiency. A skilled HVAC technician will ensure all heating system components are functioning properly and are free from leaks and rust. A regular fuel tank inspection is another important part of maintaining your heating system and keeping your property safe. Don't hesitate to call your local HVAC company if you have any questions or concerns.
Regular HVAC tune-ups are another essential part of HVAC maintenance. Even if you're not currently using your heating system, it's a good idea to schedule it every three to six months. Not only will this keep your system working efficiently, but it will also help you save money on heating and cooling costs. A good tune-up will ensure a long and comfortable season for you and your family. An HVAC tune-up is vital to ensure that your system is performing optimally.