Exterior Lighting plays a huge role in making your house look attractive. It's also an important aspect of your home's safety. Choosing the best type of lighting will help you achieve the perfect amount of light in your home. You'll also be able to avoid having to pay for expensive repairs later on.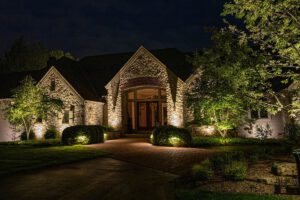 Providing adequate lighting can reduce the risk of falls and injuries associated with tripping. Proper exterior lighting can also make your home safer by deterring crime and encouraging pedestrians to take the right steps. However, not all lighting is created equal. You should be aware of some common types of lighting and the benefits of each.
The best exterior lighting is a well-designed system that provides ample illumination while minimizing glare and shadows. While it may seem like a simple task, it can be a complex one.
You may want to install lights that can be turned on while you're away from your house. This will make it easier to see potholes or other hazards. It will also help you navigate safely through the dark.
For large sites, you'll need high wattage and high-mounted luminaires. For smaller areas, you can go with lower-wattage fixtures that are spaced correctly. To ensure your fixture lasts for a long time, you'll need to do regular maintenance and replacement.
When selecting the best lights, you should also consider the material of the fixture. Acrylic is a lightweight alternative that is less prone to breakage, while polycarbonate is more durable. Also, consider the color temperature of the light. Lights with warmer colors promote relaxation and reduce stress.
Lastly, it's a good idea to have an all-in-one security system that lets you know when people are in your home. If someone is trying to break into your home, the system will automatically sound an alarm.
There are many different types of outdoor lighting fixtures on the market today, including LEDs, floodlights, and other technologically-advanced lighting technologies. In addition to providing illumination, some of them can even be connected to wifi and allow you to talk with visitors from inside your home.
Exterior lighting is a critical part of any home's security system. When it's installed correctly, it can deter crime and increase the security of both your home and your family.
There are several types of exterior lighting that are available. Each one is designed to provide different benefits and draw attention to different areas of your property. Here are some of the options:
Surface method – The surface method is used to light residential sites and storage lots. This type of security lighting provides complete illumination of the site. It also enhances the appearance of your building at night.
Perimeter security lighting – With this type of security lighting, you can limit the intruder's movement to a particular area. Typically, this system is used in conjunction with fencing.
Motion sensor lights – These security lights automatically turn on when the sensor detects motion. They save energy and can reduce your power bills.
Floodlights – For areas with low light levels, flood lights are the ideal option. These fixtures are also a good choice for business buildings because they flood the space with light.
Emergency lighting – These light systems are generally powered by a battery or generator. Some people use these lights for occasional use.
A good lighting plan should incorporate both indoor and outdoor lighting. Lights can be set to turn on or off at a certain time of day or evening. You can also add a timer to make the lamps automatically turn on when you come home.
Adding landscape lighting can help attract potential buyers and boost the overall look of your property. Outdoor ceiling lights can also be used to illuminate covered areas.
Outdoor lighting improves the overall appearance of a home and its curb appeal. This includes improving security and safety. It also makes it more welcoming. Adding lights to a driveway or patio will highlight your landscaping.
Curb appeal is important because it can give you a leg up when it comes time to sell your home. In fact, it is the main reason why a lot of homeowners are willing to spend a lot of money on landscaping.
The use of landscape lighting can also increase your asking price. However, it is important to ensure that your outdoor lighting is effective and not damaging the views of your neighbors. If you are not sure about how to do this, you can hire a landscape architect to help you.