There are many reasons to remodel your kitchen, including style and function. To begin planning your kitchen remodeling project, you should browse design options. A professional designer or architect can help you decide which type is best for your home. Once you know what you want, you can begin hiring a contractor. However, you should also have a budget in mind. The cost of a kitchen remodel can vary widely, so it is essential to know precisely how much your remodeling project will cost.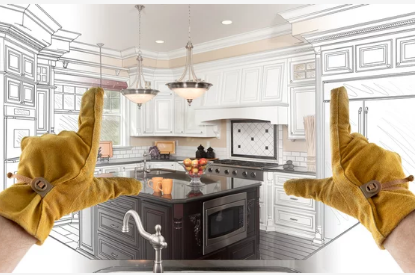 The cost of your kitchen remodels largely dependent on its size and scope. Large kitchens, for example, typically cover about 200 square feet and require a lot of work. Remodeling a large kitchen can cost from $75,000 to $100,000, depending on the size and type of materials used. Just replacing cabinets can cost up to $20,000, and it's difficult to get a budget that covers all aspects of your remodel. However, a large kitchen remodel can be a great way to update your space without breaking the bank.
While kitchen remodeling can be an expensive endeavor, the final cost is well worth it. Plumbing upgrades, such as new sinks, can add thousands of dollars to the cost of a new kitchen. Professional designers charge from $100 to $200 per hour for their services, and you should also set aside 15% to 20% of your budget for unexpected costs. A professional designer can protect your kitchen remodeling budget and ensure the final product is of the highest quality. You should also plan on adding up to 20% of your budget for unforeseen expenses, such as minor repair costs and unexpected issues.
Most kitchen remodeling projects cost between $19,000 and $45,000, but the price of the project will vary greatly. The average cost of a medium-sized kitchen remodeling project can range anywhere from $10,000 to $50,000. In addition to the cost of materials and labor, you should consider the value of your home. Home Advisor recommends spending 5% to 15% of your home's value on the remodel. But you can make it happen even on a smaller budget by aligning your needs and your budget. Listed below are some tips to help you get the most for your remodeling project.
When choosing a contractor for your kitchen remodeling project, always keep in mind your budget. If you are looking to save money, consider DIY kitchen remodeling and make your own cabinets and countertops. Otherwise, find a contractor in your area that can complete the project for you. Always make sure to hire a licensed, insured contractor with references. In addition to these tips, make sure your kitchen remodeling project is done by a professional. And remember that your kitchen remodeling project is only one component of a larger remodel.
When it comes to cost, the cost of a kitchen remodeling project depends on the size of the room. A basic remodel costs about $12,000 to $21,000, and the materials used are less expensive than those of upscale homes. A lower-cost kitchen remodel might include vinyl flooring instead of ceramic tile, a top-mount refrigerator instead of a side-by-side refrigerator, and fluorescent lighting instead of can lights. On the other hand, an expensive kitchen remodel can cost up to $90,000. The cost of these major renovations is usually due to the unique carpentry or major reconfiguring of the interior space.
Prices for luxury kitchen remodels vary from state to state and metropolitan area to region. Generally speaking, a luxury kitchen remodel may cost $50,000 to $150,000. The entire project includes design plans, customization, and installation. Labor costs make up a large part of the total cost, and average anywhere from $3,000 to $6,000. It can take as long as 12 weeks to complete this project, but it is definitely worth the price. The luxury kitchen remodeling can be an expensive renovation project, so be sure to check out pricing before hiring a contractor.
A mid-range remodel will involve upgrades to cabinetry and countertops. While not as extensive as a high-end remodel, it can save you about 30% on the total cost of the remodel. You can also save money by using laminate and single-thick countertop materials instead of granite or stone surfaces. The installation costs will vary from $50 to $120 per hour. If you're selling the house, however, you should consider installing stone surfaces.