Whether you've had a water intrusion in your home or office, there are a number of steps you can take to help minimize the impact on your property. These steps include identifying the cause of the intrusion, sanitizing and drying affected areas, and repairing the damage.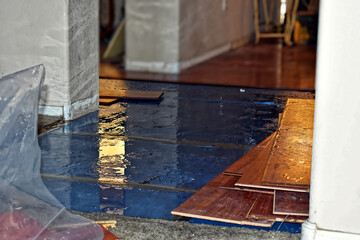 Drying out affected areas to prevent mold growth. During water damage restoration, it is important to dry out affected areas to prevent mold growth. Aside from reducing the chance of mold contamination, this also prevents rot and other problems. There are several ways to do this. You can use a dehumidifier to reduce moisture and run fans to help speed evaporation.
You can also use bleach or detergent to clean wet surfaces. Let the solution sit for at least 10 minutes before rinsing it. If you can, open windows or doors to remove the excess moisture. Mold spores love moisture. They are easily transported through the air, so you should wear protective clothing if you clean them with a bleach solution. You should also wear boots and long pants. You should also wear safety glasses. If you can, wear a N-95 respirator. It is also a good idea to keep an eye on the exterior of your house for signs of mold.
Sanitizing affected areas. During water damage restoration, sanitizing the affected area is a good idea. This can be done by using commercial non toxic products. Using a dehumidifier to keep the air moving is also a good idea. Using the right products for the job is the key to a successful cleanup. This can be important for your family's health. Luckily, many products are designed to help you return to normal quickly. For example, many commercial non toxic products can remove mold and bacteria from your home. These products are made from natural substances, such as vinegar, which are known to kill bacteria.
Flooding experts can provide all the information you need to get your home back to normal as quickly as possible. Their technicians are experts in water damage restoration. They will also provide you with a free no, obligation estimate.
Identifying the cause of the water intrusion. Identifying the cause of the water intrusion is crucial for the success of water damage restoration. It may be due to a compromised foundation, plumbing leak, or damage caused by a flood. These problems can cause structural damage to your home and health issues to those living in the building. Water intrusion can be very costly. It can damage flooring, walls, and ceilings. It can also lead to mold growth. Mold can have a negative impact on the health of those living in the home.
Identifying the cause of the water intrusion can help you minimize the damage and costs associated with it. Using a moisture meter can help you identify where the moisture is coming from. Moisture meters can be placed on carpets and wall-to-wall carpeting to test for moisture. Moisture meters can also be used to check for leaks in the roof. If the roof leaks, it can cause significant damage to the structure of the building. The leak can also lead to mold growth, which can cause respiratory problems.
Cost of water damage restoration. Getting your house restored after water damage can be a costly process. There are a number of factors that determine how much you'll pay. This includes the size of the room, type of damage, and the amount of work needed. The type of water that has damaged your home can be the most important factor in determining how much you'll pay. If the water has caused permanent damage to expensive building materials, you'll end up paying more.
If the water is clean, the cost of restoration will be less. This is because cleaning it is easier. It will also be cheaper to dry than if it has been heavily damaged. The type of materials that are affected by water will also affect the cost. Generally, materials that do not absorb moisture are more susceptible to water damage. Materials such as hardwood floors and brick can be severely damaged. Water damage can also cause problems with your appliances. It can rust, damage your pipes, and cause mold. Mold spores can begin to grow rapidly in 24 to 48 hours. This means that you need to get mold removal services immediately.